Releasing the sweetness of rice
The high cooking temperature of 130℃* covers the inner pot completely. The rice will bulge from the core. After cooking at 110℃ – 115℃, the sweetness of the rice will be released. (*the temperature of the bottom of the pot)
3-layer metal inner pot
Far-infrared ray coating and the thermal conductive metal, the inner pot is heated up more thoroughly. The rice texture will be more consistent.
"W" heat circulation
The special pot bottom design facilitates the heat circulation. The cooked rice is grainy and firm.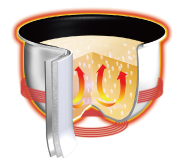 Functional design
This IH rice cooker provides several functions which are performed by pressing a button only.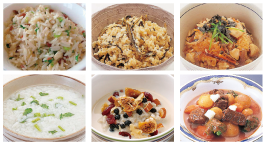 Model No.
JKW-A10S
JKW-A18S
Colour
Urban Biege (CU)
Inner Pot Materials
3-layered metal pot and far-infrared ray coating
Capacity
5.5 Cups
10 Cups
Electric Rating
1210W
1400W
Rice Cooker Dimension (cm)
26×35.5×19.8
28.8×38.6×25
Rice Cooker Weight (kg)
3.7kg
4.5kg
Accessories in the box
Rice Scoop, Measuring Cup
Rice Cooker Dimension: width x depth x height